On Distance and Drowning (Wannes Gyselinck)

The sound of a foghorn is sculpt­ed by dis­tance. It takes its arche­typ­i­cal shape only after hav­ing trav­elled over sev­er­al hun­dred meters. By mov­ing through undu­lat­ing air mol­e­cules and dis­tort­ing sheets of mist, and tra­vers­ing the entropy of the bil­low­ing sea's sur­face, it sheds vol­ume, los­es shrill­ness and acquires its warm, res­o­nant and mourn­ful sonor­i­ty. However, when heard close-by, with a vol­ume approach­ing 120dB, its sound is lit­er­al­ly deaf­en­ing (110 dB is the aver­age human pain thresh­old for sound; 150dB will rup­ture your ear-drum).

The foghorn's emo­tion­al­ly provoca­tive sound is noth­ing more than an inci­den­tal by-prod­uct of its func­tion: to com­mu­ni­cate with oth­er ships over great dis­tances. Its plain­tive and sor­row­ful con­no­ta­tions may well derive from this nau­ti­cal func­tion: the sound as a mark­er between life and death. The foghorn's wail seems to car­ry the col­lec­tive mem­o­ry of (most­ly) men at sea – their long­ing, wor­ries and dread – and the mem­o­ry of the women on land, wait­ing for their hus­bands' return.
In her six-part com­po­si­tion, Signaux pianist-com­pos­er Heleen Van Haegenborgh turned the foghorn into a musi­cal instru­ment, pro­vid­ing a counter-voice for her (inside) piano. (read fur­ther under the stills)

Through YouTube, Van Haegenborgh dis­cov­ered and made con­tact with Raoul de La Roche Aymon, a col­lec­tor of foghorns in Burgundy, France. From his col­lec­tion of more than three hun­dred foghorns, she chose a set of 23 tones from which she formed a chro­mat­ic series of two octaves. De La Roche Aymonthen devel­oped a key­board from which this unusu­al set of horns could be con­trolled. The com­bi­na­tion of key­board and horns pro­duced an entire­ly new instru­ment, com­pa­ra­ble in some degree to the pipe organ – albeit one that can be heard, and only lis­tened to from a dis­tance of miles. Moreover, their is no such thing as a vol­ume con­trol). The key is pressed and com­pressed air is pushed into the cor­re­spond­ing horn: it is a bina­ry action – the horn blows or it does not – there is no inter­me­di­ary posi­tion. Sonic colour­ing can only be achieved by allow­ing the sound to inter­act with the sur­round­ing open space, at sea or in a landscape.
By con­trast, Van Haegenborgh exploits the piano's full range of son­ic pos­si­bil­i­ties. She com­bines reg­u­lar play­ing with a range of extend­ed tech­niques – most notably, bow­ing the strings of the piano with fish­ing line, cre­at­ing del­i­cate, qui­et and some­times even horn­like sounds. The main chal­lenge of com­pos­ing a non-ampli­fied duet for foghorn and piano is, per­haps obvi­ous­ly, one of balance.
Signaux was first per­formed live in a remote cor­ner of the Ghent har­bour. The audi­ence was seat­ed close to the piano inside an emp­ty store­house. The horns were posi­tioned in the open air, at a dis­tance of about 200 meters. The only way to bring togeth­er the sounds of the piano and the horn togeth­er effec­tive­ly was to sep­a­rate them by a great dis­tance. This spa­tial sep­a­ra­tion of the two sound sources func­tioned as a nat­ur­al equal­iz­er – caus­ing the del­i­cate and qui­et sounds of the bowed strings inside the piano to be almost indis­tin­guish­able from the horns resound­ing in the open air.
Another dis­tance that is both marked and bridged in Signaux is that between the con­tem­po­rary and the past. Van Haegenborgh has reworked raw musi­cal mate­r­i­al from the hymn, ​'They That Go Down to the Sea in Ships' (1685), com­posed by Henry Purcell. The words are those of psalm 107, evok­ing the small­ness of men faced with the vast­ness of the sea, in which they can see their Lord at work, both rais­ing and calm­ing storms. This his­tor­i­cal dia­logue with past times is not direct­ly sig­nalled; rather it is encod­ed in the com­po­si­tion, both lit­er­al­ly and metaphor­i­cal­ly. At both the start and the end of the com­po­si­tion one hears the puls­ing trans­la­tion of the words of the psalm into Morse code. On a more abstract lev­el, the past is engraved in the now in the guise of a heav­i­ly decon­struct­ed ren­der­ing of Purcell's thick har­monies and melod­ic lines, fad­ing into sparse frag­ments of sounds – dis­tort­ed echoes from the past, chang­ing shape and dis­solv­ing into new sounds as time pro­gress­es. (read fur­ther under still).

In Regina, estab­lish­ing dis­tance serves to cre­ate, once again, the ide­al con­di­tions for bet­ter hear­ing the voic­es of the past. Expanding her use of string bow­ing even fur­ther in Regina, Van Haegenborgh explores a wide array of sonorous tex­tures. The bowed strings at first sound ethe­re­al and whis­per­ing, not unlike the eerie sound of glass organs, only to build up towards a thun­der­ing mass of dark, groan­ing overtones.
The duet – or duel – in Regina is that between ​'out­side' and ​'inside piano', between the out­ward key­board and the piano's entrails. In Regina, Van Haegenborgh sets up a dia­logue at an even greater his­tor­i­cal dis­tance, with frag­ments from Jacob Obrecht's Salve Regina (late 15th cen­tu­ry), and the motet Laboravi Clamans by Jean-Philippe Rameau, which can be found as a musi­cal exam­ple in his Traité de l'Harmonie Réduite à ses Principes Naturels (1722). Its words, too, were tak­en from the psalms (psalm 69). The King James ver­sion reads: ​'My throat is dried, mine eyes fail while I wait for my God.' Its pre­ced­ing vers­es the­mat­i­cal­ly span the gulf between Regina and Signaux: ​'Save me, O God; for the waters are com­ing in my soul (…). I am come into deep waters, where the floods over­flow me.' It allows us to hear Signaux/​Regina as a dip­tych in which voic­es from the past emerge and are flood­ed again – a med­i­ta­tion on dis­tance and drowning.
Wannes Gyselinck

Credits
Composition and concept

Heleen Van Haegenborgh

Realisation and technical support foghorn organ

Raoul de la Roche Aymon

Performance foghorns

Heleen Van Haegenborgh

Performance piano

Heleen Van Haegenborgh

Graphical design

Laurens Teerlinck

Label

el NEGOCITO records

Commissioned by

Havenfestival, Festival of Flanders

Première

September 22, 2013
©Virginie Schreyen at Raverseyde Vrijstaat O
©Raoul de la Roche Aymon at Netwerk Aalst, the roof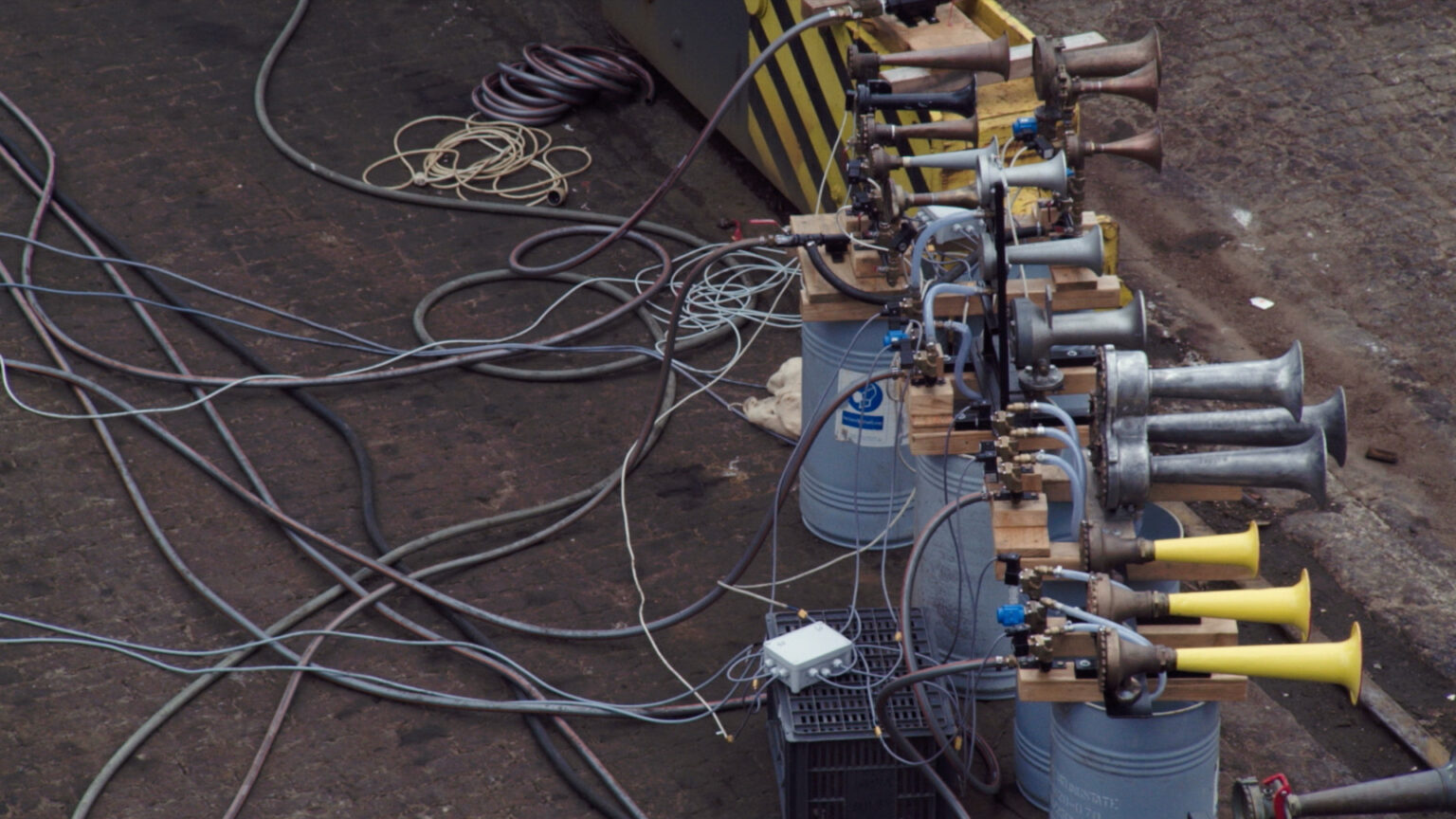 ©Robbrecht De Smet at Havenfestival Ghent
©Virginie Schreyen at Raversyde/vrijstaat 0
©Virginie Schreyen at Raverseyde/Vrijstaat 0
©Heleen Van Haegenborgh At Oortreders
©Fiorella Stinders
©Fiorella Stinders, Havenfestival 2013
©Brecht Van Maele at Havenfestsival Van Vlaanderen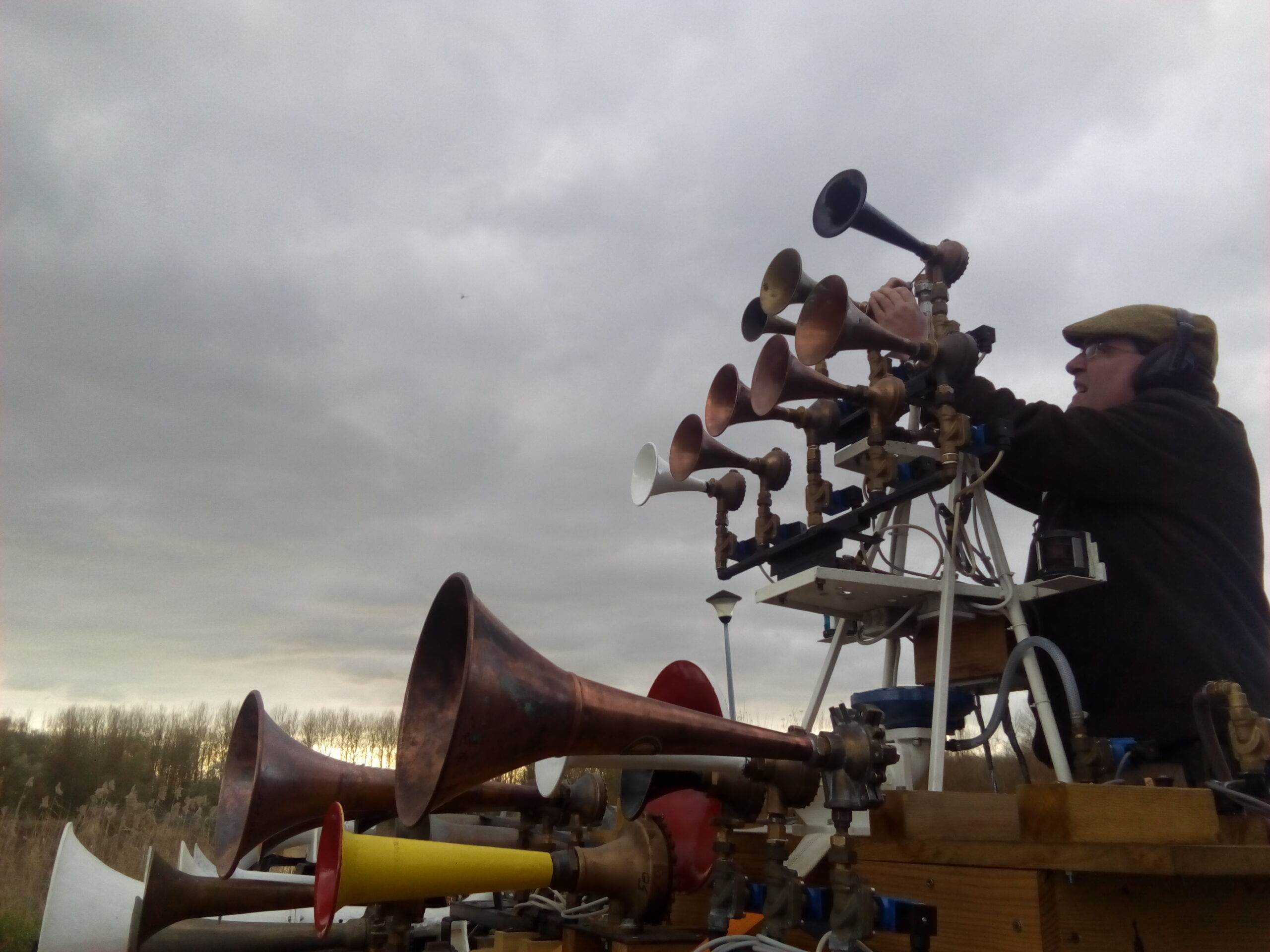 ©Heleen Van Haegenborgh at Museum Emile Verhaeren, Sint Amands
©Heleen Van Haegenborgh at Raverseyde/vrijstaat 0
©Deinze, on the roof of the city Hall 2017
At MA festival Zeebrugge 2019
By Laurens Teerlinck
De grote Verleiding, Kortrijk
De Grote verleiding, Kortrijk
Related Releases
2013
Signaux
Music for Foghorns & Piano CD/DVD
El NEGOCITO records
Past Agenda
11082019 16:30
Signaux
Foghorns Solo
MA Festival, Visserskruis
20102018 18:00
Signaux
Foghorns Solo
Oortreders Neerpelt
06122017 21:00
Signaux
Foghorns Solo
Netwerk Aalst (the roof)
14102017 16:00
Signaux
With Charles Dairey on Carillon
City Hall Deinze (the roof)
27112016 21:00
Signaux
Foghorns Solo
Grave of Emile Verhaeren near the Schelde
23052015 21:00
Signaux
Foghorns Solo
The Leie, Kortrijk
11112014 14:00
Signaux
Foghorns and Piano
Private Shelter Domein Raverszijde/Vrijhstaat O
17102014 20:00
CD

Release Signaux
Concert Version
Handelsbeurs Ghent
22092013 14:00
Signaux
Piano and Foghorns
Havenfestival Ghent